Ready for shipping, delivery in 48h
HANTECH 18000 WLAN NOBEL, 5m, holder
RRP EUR 881.51
EUR 671.42
*

HANTECH 18000 BTU Split Air Conditioner WLAN Air Conditioner 5,1 kW Climate NOBEL + 5m + Holder
High-quality split air conditioner in anthracite with elegant glass front and LED display incl. Wifi and Internet remote control via App
HANTECH split air conditioners are characterised by excellent workmanship and also offer contemporary control options via the Internet. Copper lines are not included in the scope of delivery for good reason, as each installation is individual. The outdoor unit is prefilled with modern R32 refrigerant for up to 4-5m line length, after which 30g/m R32 should be refilled.
Particularly impressive is the self-cleaning function, which runs a programme to clean the heat exchanger. First, a layer of ice is formed to trap dirt and grime, which is then removed during defrosting. The final step is extreme heating to kill germs and bacteria, leaving a hygienically clean surface.
Additional comfort is provided by the 5 fan speeds, which enable quiet operation up to 27 dB. The I-Feel function, adjusts the ambient temperature with the sensor in the remote control as well as the air flow rate to ensure the best possible comfort.
Special features
Self-cleaning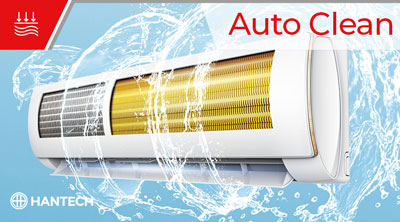 The evaporator is frozen to freeze the dirt on the heat exchanger, then starts the defrosting process, the generated defrost water removes the dirt. After heating up to over 56°C, the evaporator is dried and cleaner, more sterile than before.
I-Feel mode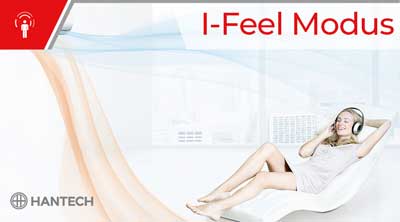 The sensor on the remote control is closer to our well-being than the sensor on the indoor unit of the air conditioner, so the unit adjusts the set temperature and fan speed more comfortably than with classic air conditioners without this function.
Titanium gold coating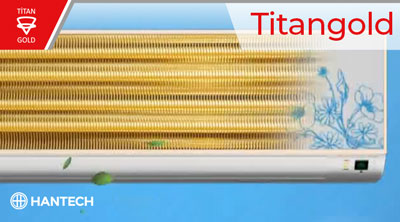 The special coating technology allows for a very smooth surface of the heat exchangers, both on the indoor and outdoor unit, so that dirt particles are more difficult to accumulate. Due to less dirt on the heat exchangers, the unit maintains its efficiency longer and requires less frequent cleaning.
HANTECH WI-FI APP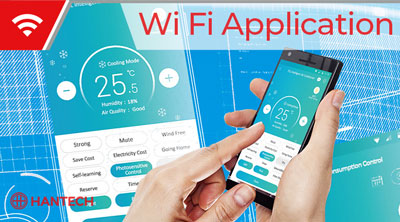 In combination with the home wi-fi router and the built-in wi-fi module of the indoor unit, the air conditioner can be controlled via a smartphone app. All functions and setting options are available and the app also offers advanced timer functions.
Technical data
Design load cooling mode: 5.1 kW
Design load heating mode: 5.1 kW
Energy efficiency class cooling: A++
Energy efficiency class heating: A+
Coefficient of performance cooling: 6.1 SEER
Coefficient of performance heating: 4.0 SCOP
Electricity consumption cooling: 293 kWh/year
Electricity consumption heating: 1575 kWh/year
Heating period (medium): down to -10 °C
Sound power level max.: 65 db(A) re1 pW
Refrigerant (GWP): R32 (675)
Connections / thread: 1/4 and 3/8
Sound pressure inside: from 27 db(A)
Sound pressure outside: from 55 db(A)
Sound power level indoor: 53 db(A)
Sound power level outside: 65 db(A)
Stromversorgung: 220-240V~/50Hz/1P
Power consumption cooling: 330-2350 Watt
Power consumption heating: 340-2540 Watt
Dimensions product inside: 910x294x206 WxHxD mm
Dimensions product outside: 853x628x349 WxHxD mm
Weight of product inside: 10 kg
Weight product outside: 35 kg
Scope of delivery
1 x Outdoor unit HANTECH 18000 (R32 prefilled for up to 4m)
1 x Indoor unit HANTECH 18000 Black Edition
4 x Rubber bumpers for outdoor unit
1 x El. connection cable 4m
1 x El. supply cable 2m
2 x activated carbon filters (pre-installed)
1 x W-Lan module (pre-installed)
1 x Remote control
1 x condensation water hose
2 x union nut for 1/4" pipe
2 x union nut for 3/8" pipe

Please note that 1/4" (6mm) and 3/8" (10mm) copper pipes are required for installation.
| | |
| --- | --- |
| Manufacturer | HANTECH |
| Model | SET Nobel 18 5m |
| Item ID | 2008 |
| Condition | New |
| Variation ID | HNT-WN18VMCL/I82-5m |
| Content | 1 piece |
| Weight | 52000 g |
| Net weight | 45000 g |
| Customs tariff number | 84151090 |