Ready for shipping, delivery in 48h
HANTECH Multisplit Air Conditioner Wall Unit 3 x 2,6 kW 9000 BTU Hpro + Holder + Wifi
Hantech Multi Split Air Conditioner consisting of 1 x Hantech Multi-Outdoor Unit 27K (outdoor unit) & 3 x Hantech 2.6 kW 9000 BTU Multi H-PRO indoor unit.
RRP EUR 1,500.84
EUR 1,133.61
*

HANTECH Multisplit Air Conditioner Wall Unit 3 x 2,6 kW 9000 BTU Hpro + Holder + Wifi
HANTECH Split Air Conditioner 9000 BTU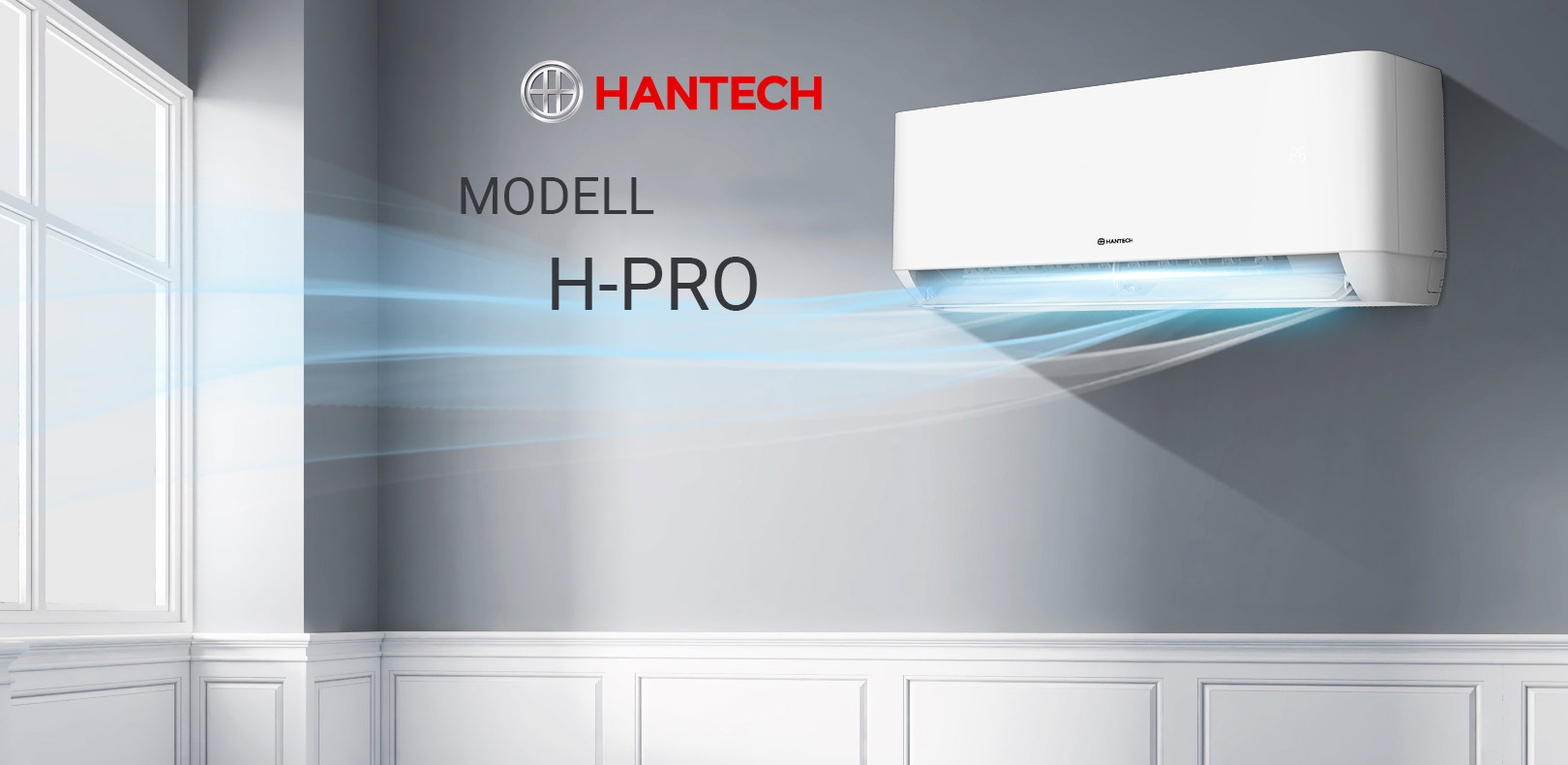 TOP BRAND PRODUCT
Pre-filled with R32 for approx. ∼5m pipe length. 230V household voltage near the outdoor unit is required for operation. The indoor unit is supplied with power from the outdoor unit via an electric cable. Thanks to the latest inverter technology with precise speed adjustment at low power consumption and permanent room temperature monitoring, a pleasant, even climate is guaranteed. Evacuation of the pipes by an air-conditioning technician is mandatory for long-term trouble-free operation.
DIMENSIONS
Indoor unit 790×275×192mm
Weight 8,5 kg
Outdoor unit 968×655×375mm
Weight 46 kg
THREAD
Pressure line
1/4"
Suction line
3/8"
SPACE SIZES
Minimum
from 5m²
Maximum
up to 26m²
ACCORDING TO EU REGULATION 626/2011
| Manufacturer | | HANTECH |
| --- | --- | --- |
| Model | | HPRO |
| BTU | | 9000 |
| Design load cooling mode | kW | 2,6 |
| Design load heating mode | kW | 2,1 |
| Energy efficiency class cooling | | A |
| Energy efficiency class heating | | A |
| Coefficient of performance cooling (SEER) | | 6,3 |
| Coefficient of performance cooling mode (SCOP) | | 4,0 |
| Power consumption 1*) Cooling | kWh/year | 144 |
| Electricity consumption 1*) heating | kWh/year | 735 |
| Heating period (average) | °C | to -10 |
| Sound power level max. | db(A) re1 pW | 60 |
| Refrigerant (GWP) 2*) | | R32 (675) |
| Connections / thread | | 1/4" 3/8" |
| Sound pressure inside | db(A) | from 19 |
| Sound pressure outside | db(A) | 50 |
| Power supply | | 220-240V~/50Hz/1P |
| Power consumption cooling | Watt | 240-1380 |
| Power consumption heating | Watt | 240-1550 |
| Dimensions product inside | WxHxD | 790×275×192 mm |
| Dimensions product outside | WxHxD | 777×498×290 mm |
| Weight product inside | kg | 8,5 |
| Weight product outside | kg | 24 |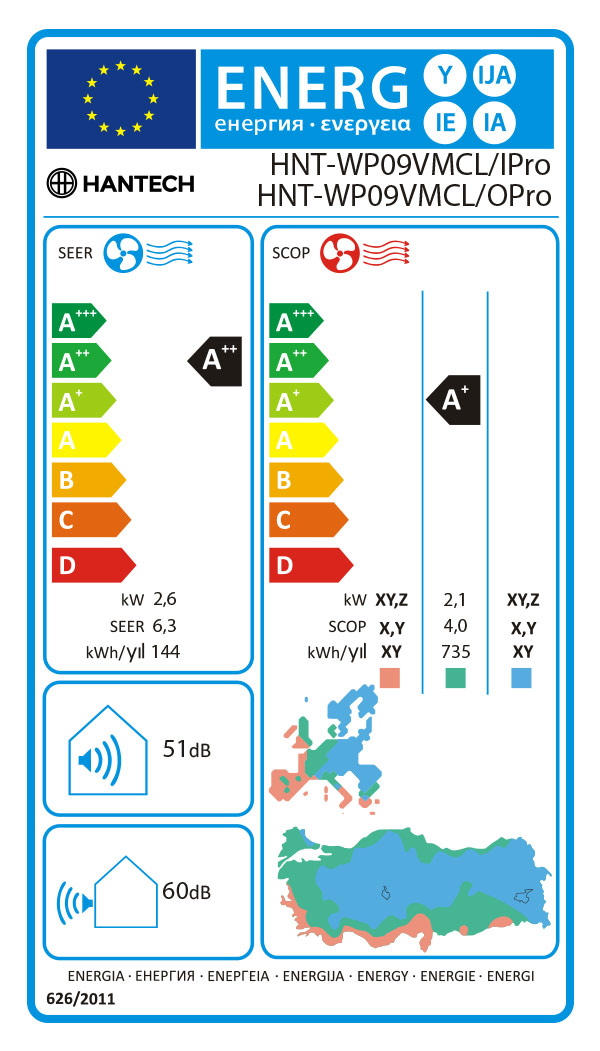 1*) Energy consumption per year (kWh/year). Based on standard test results. Actual consumption depends on use and location of unit. 2*) Refrigerant leakage contributes to climate change. Refrigerants with lower global warming potential (GWP) contribute less to global warming in case of leakage than those with higher GWP. This unit contains refrigerant with a GWP equal to 675. Thus, a leakage of 1 kg of this refrigerant would have 675 times greater impact on global warming than 1 kg of CO2 over one hundred years. Do not work on the refrigerant circuit or disassemble the unit - always consult qualified personnel.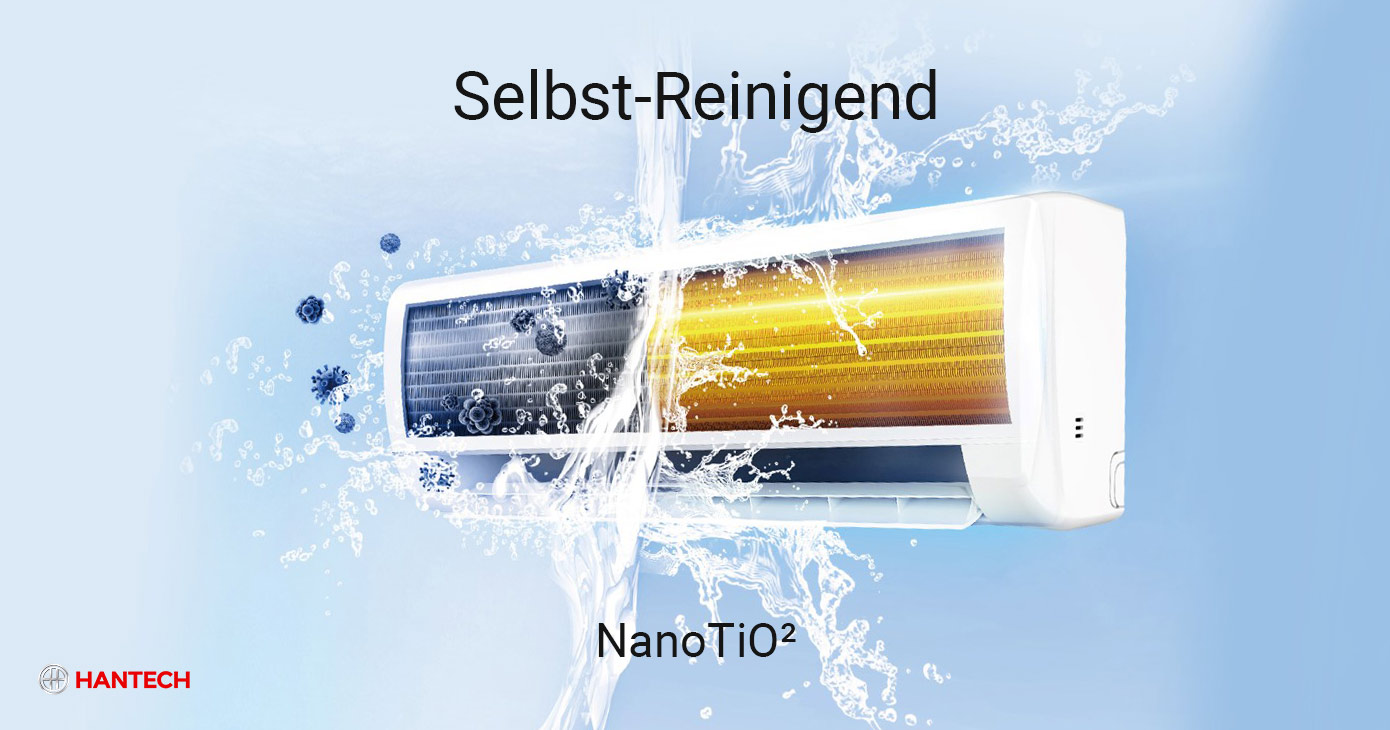 The HANTECH™ nano-titanium oxide gold coating on the partitioned evaporator coating is self-cleaning, inhibits bacterial growth and provides improved corrosion resistance, keeping the energy yield virtually identical even after 8 years. Organic pollutants are broken down and odours neutralised.
WLAN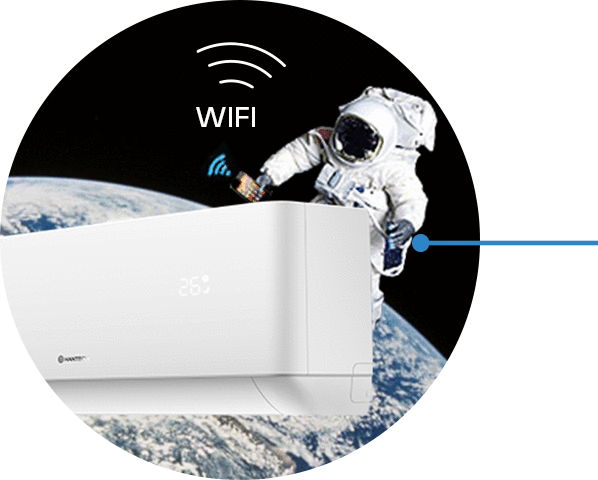 APP control
Comfortably operate the air conditioner with all available functions and settings while on the move. For example, you can pre-cool the rooms a few minutes before arrival in order to arrive in a pleasantly tempered room. The control, in addition to the infrared remote control, is also possible via the home W-Lan network without using the Internet.
New design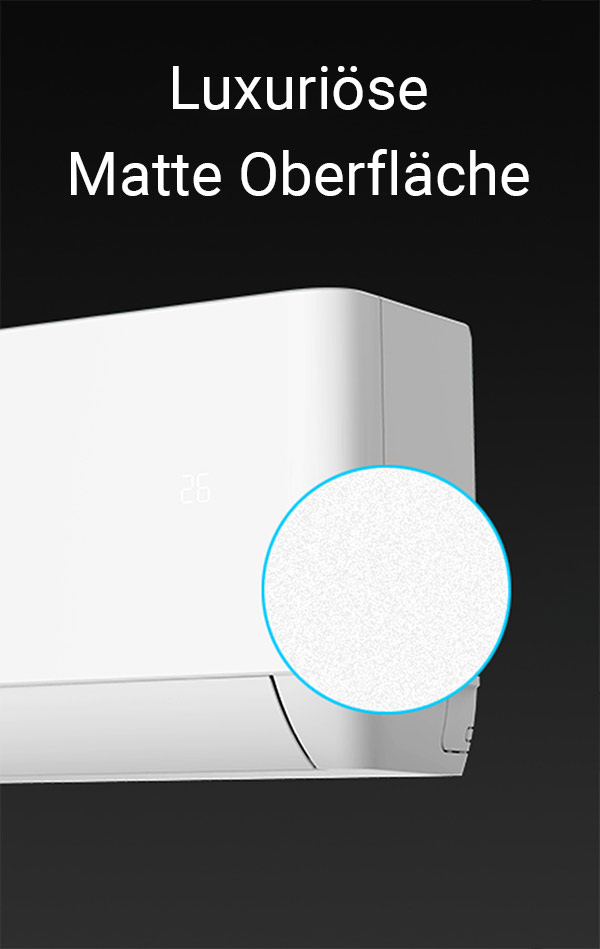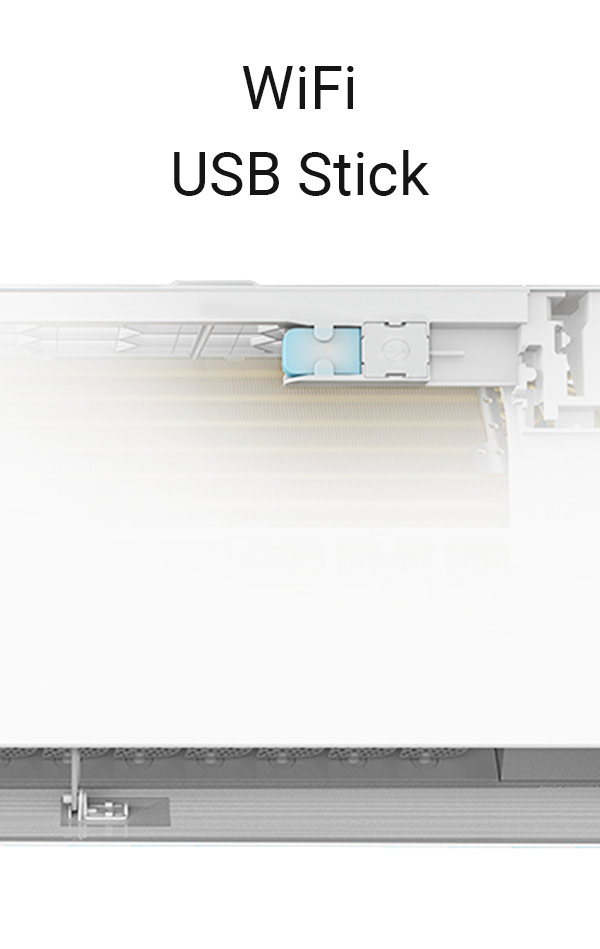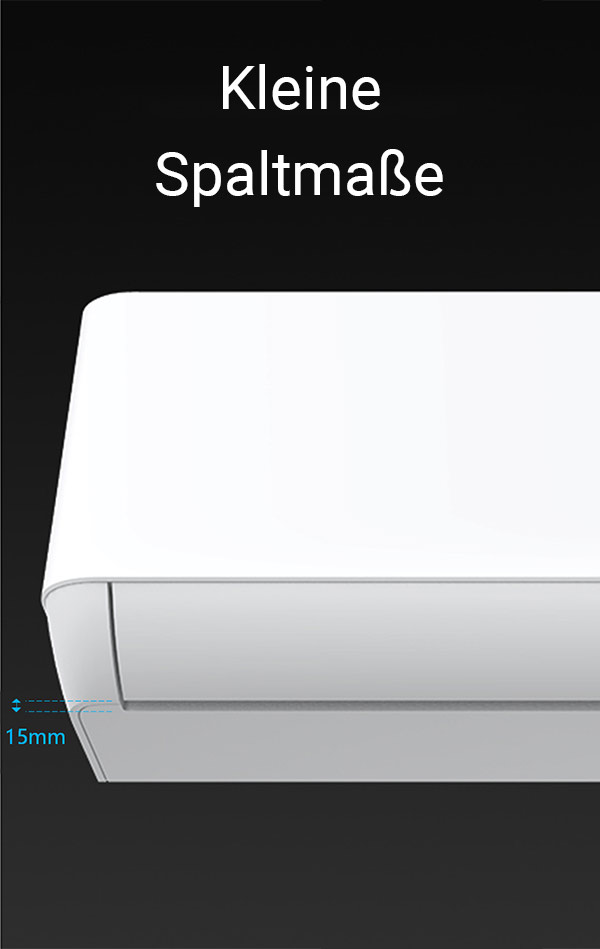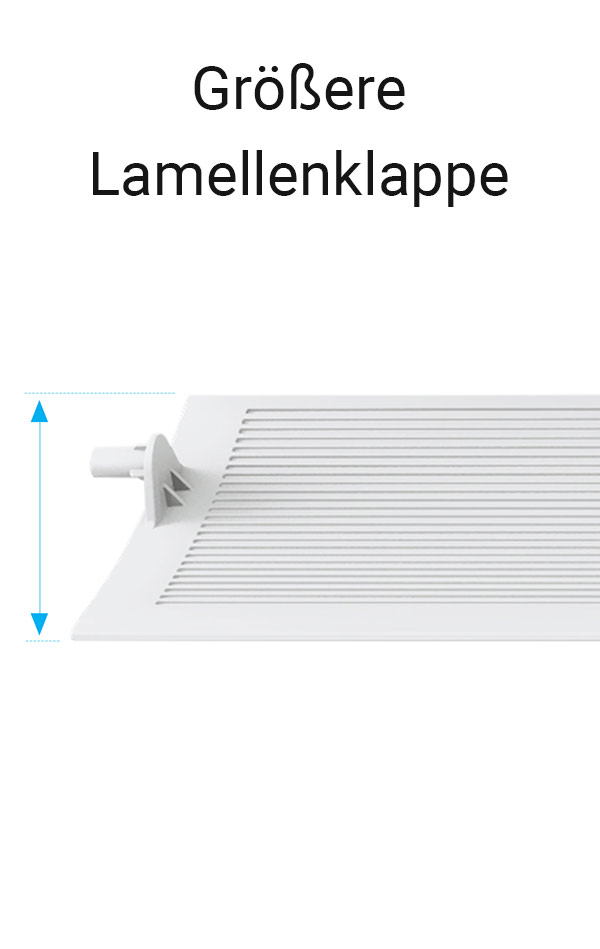 MODI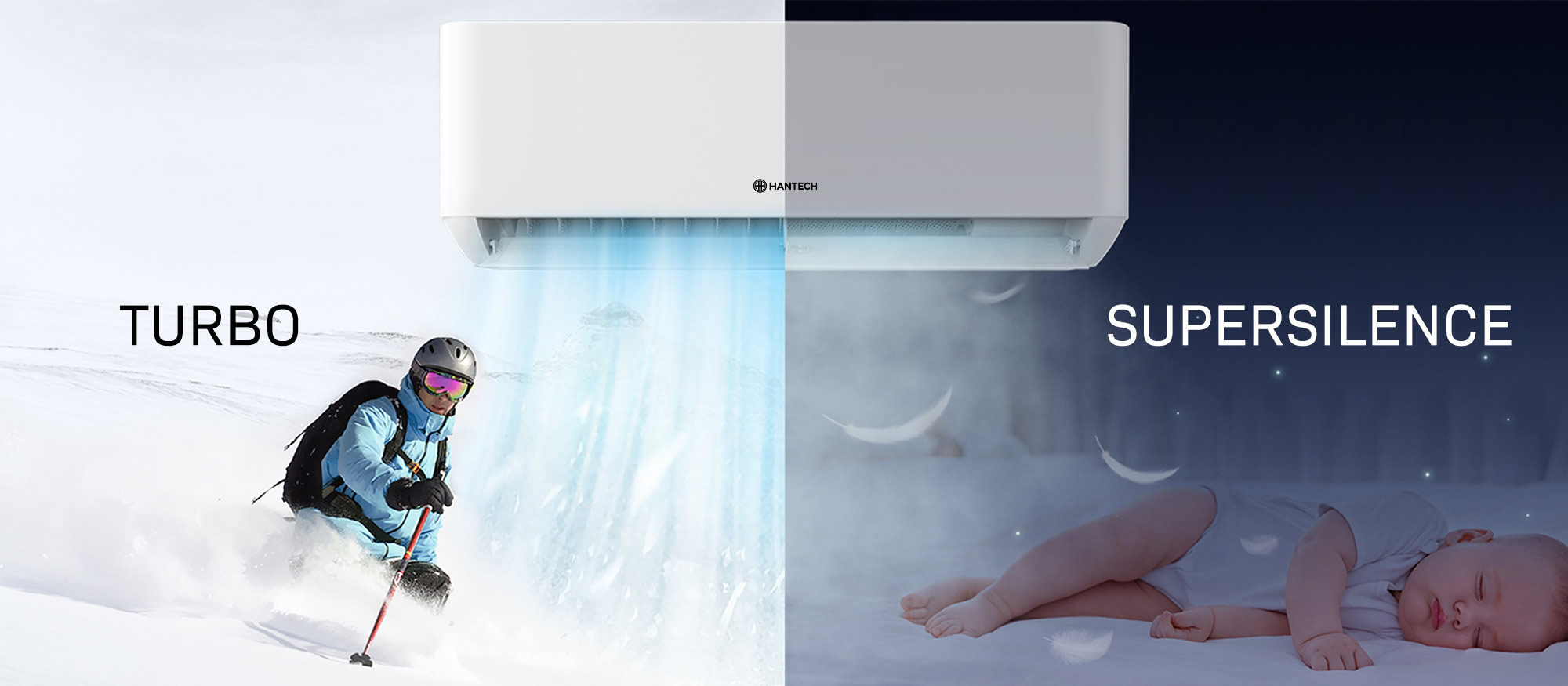 Turbo Mode

Highest performance and air circulation shorten the time to the desired temperature
Supersilence

Minimal fan noise ensures whisper-quiet operation and idyllic nights
Self-cleaning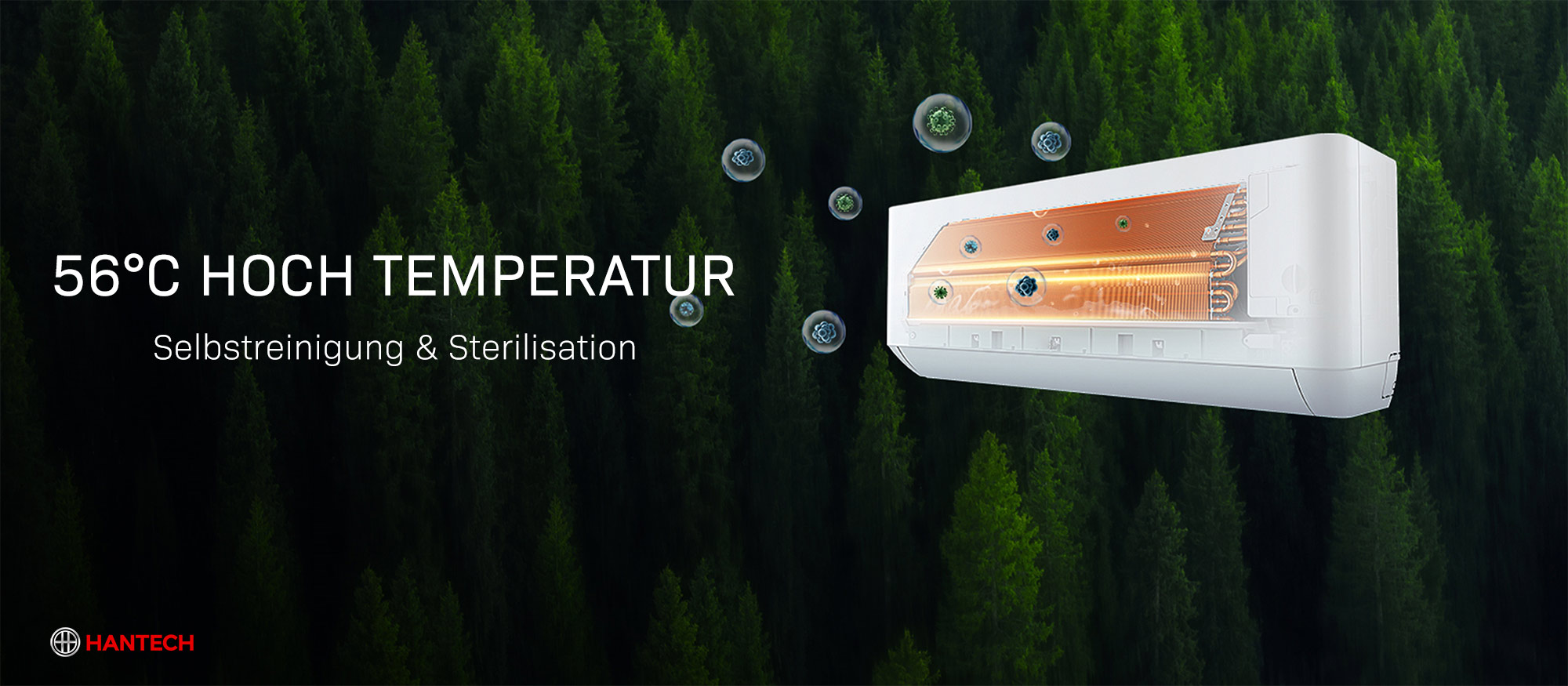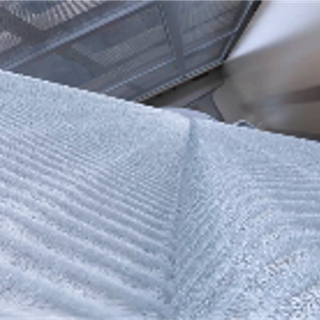 1. freezing
Freeze the heat exchanger to retain dirt particles.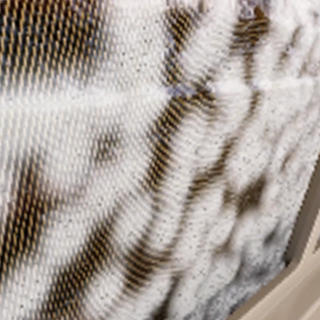 2. thaw
Defrosting is carried out to loosen and rinse off the dirt.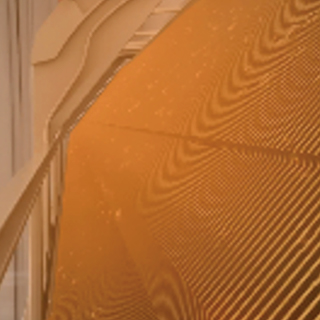 3. drying
Preparation and drying of the heat exchanger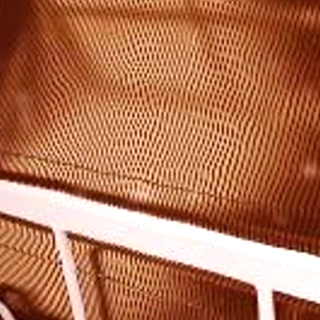 4. Hightemp
Harmful microorganisms are killed at 56°C for 30 min.
Special features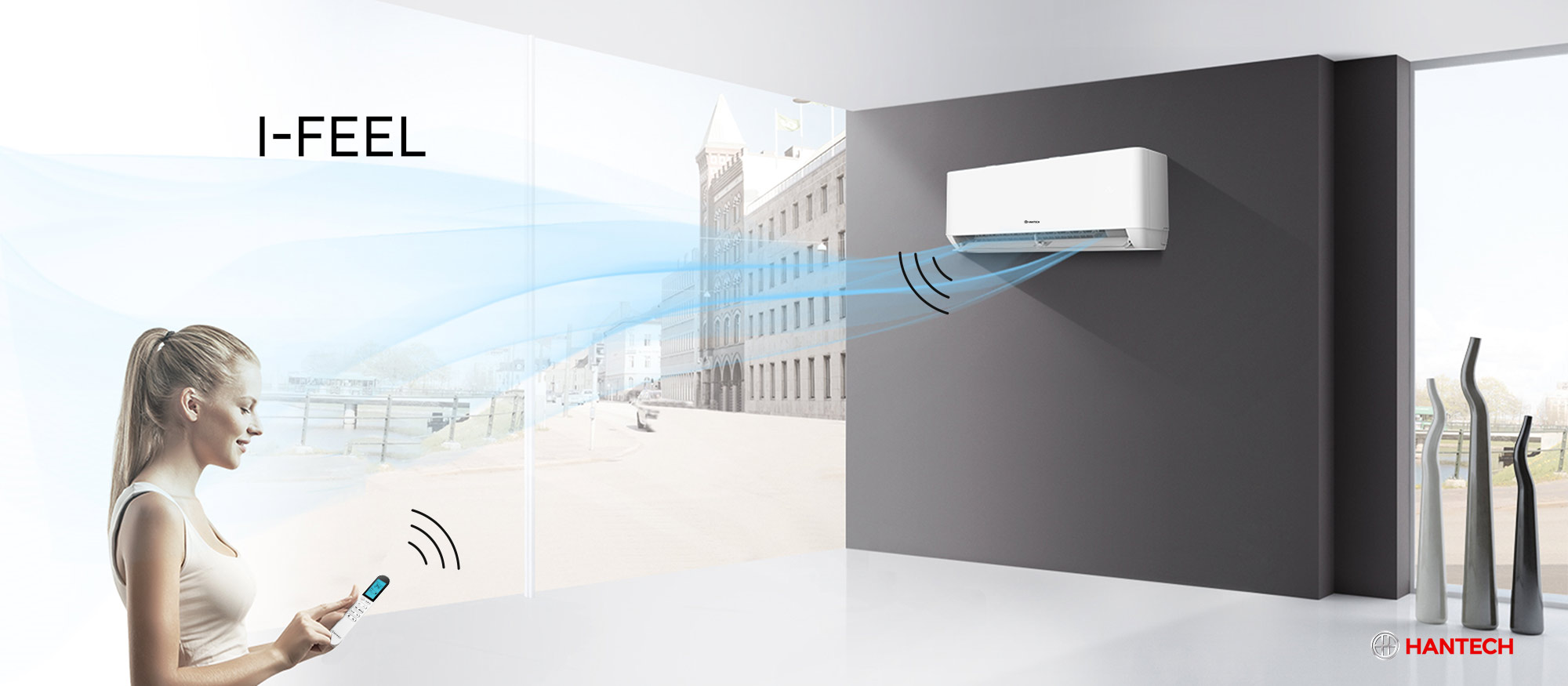 I-FEEL

Temperature is measured at the remote control
TIMER

Switch timer 24h on and off
HEALTH

Ionisation of room air
SLEEP

Prevents cooling during the night
MILDEW

Drying prevents bacterial growth
8°C HEAT
Frost protection - rooms always remain above 8°C
DISPLAY

LED display can be switched off if required
Installation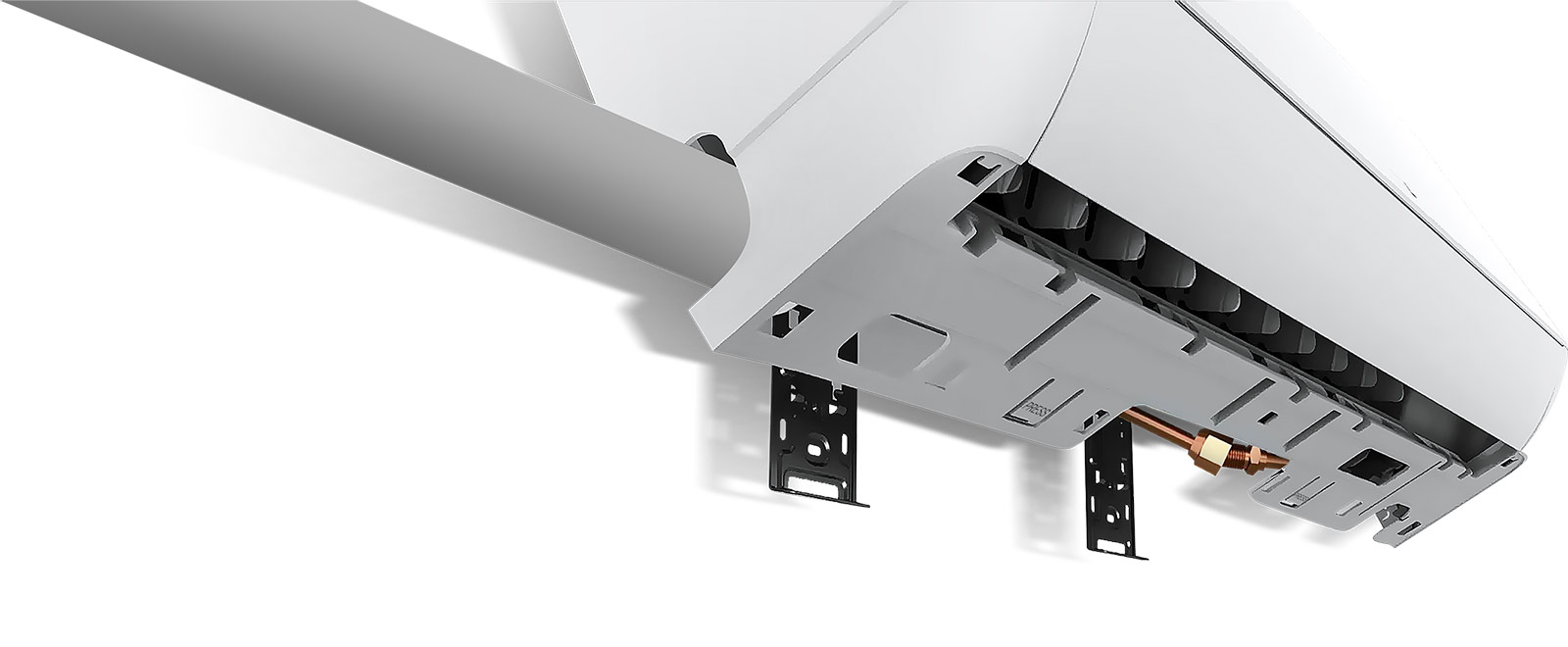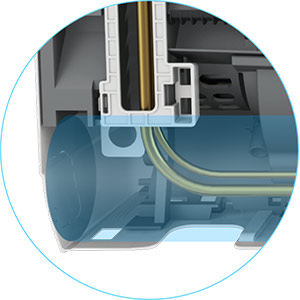 More space for pipes and condensate pumps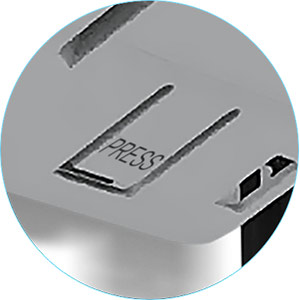 Easy detachment from the mounting plate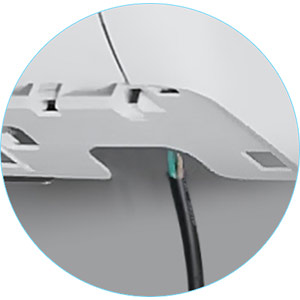 Convenient access for electrical connection
More space for connection and leak test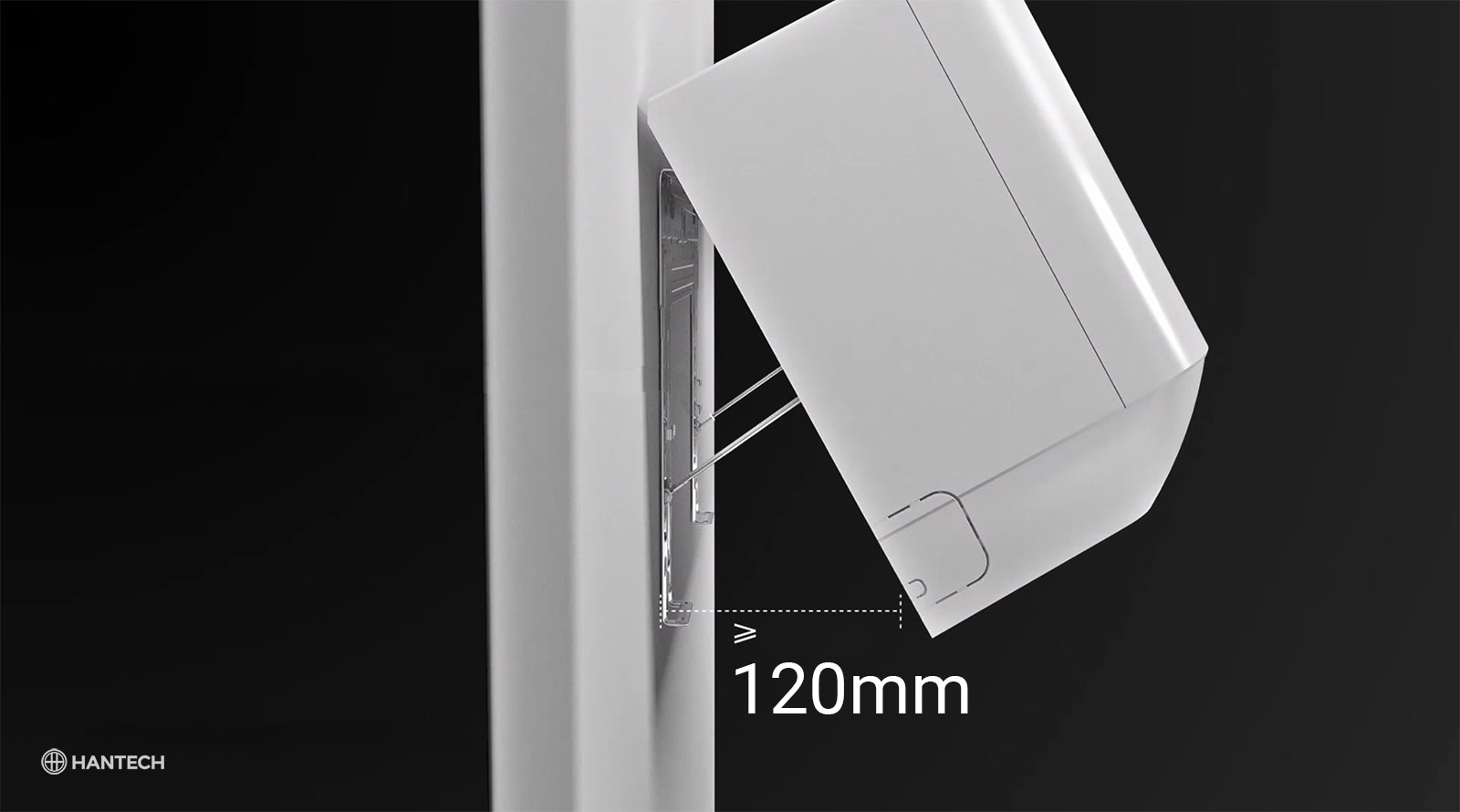 Bracket with spacer
Easily check connections for leaks after installation Up to 120mm clearance for working
Maintenance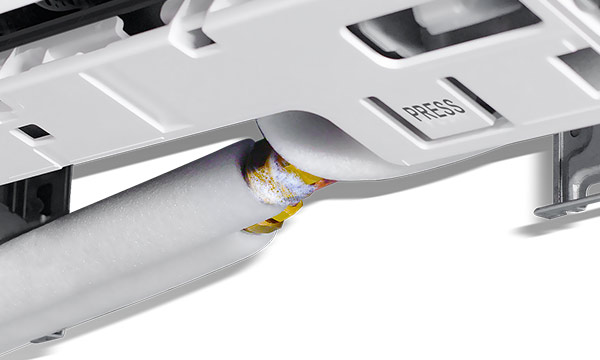 Leakage test in installed condition
Thanks to the mounting plate with spacer, check for leaks comfortably even after installation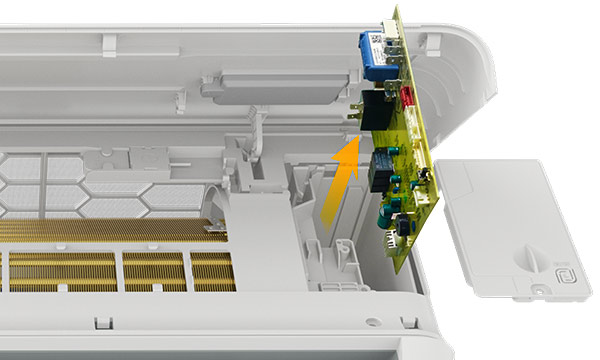 Board replacement
Easy to replace electronics - quick access in the event of a malfunction or defect of the main board in the indoor unit
R32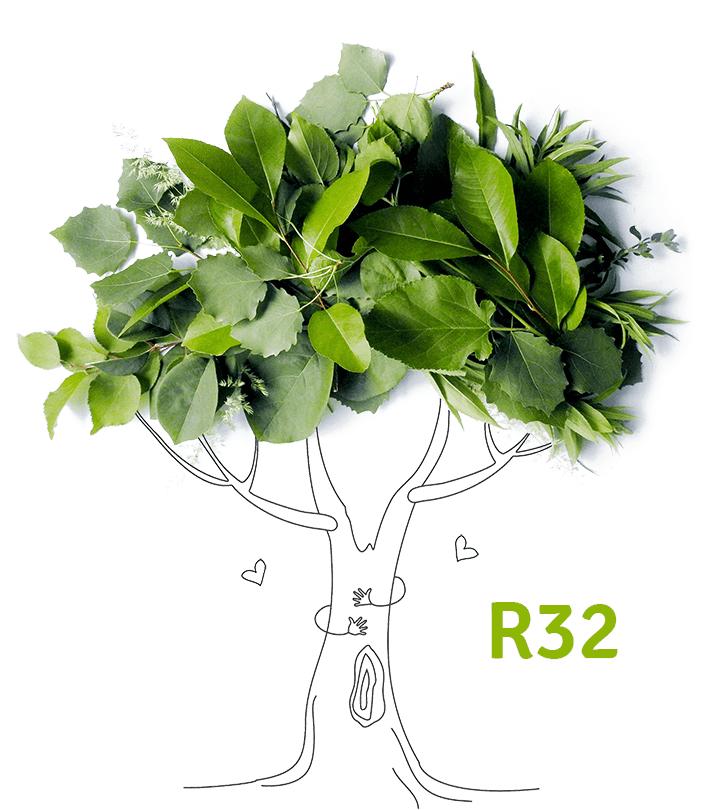 Why switch to R32 ?
According to EU regulation CE 517 2014, R410A is being phased out and replaced by non-fluorinated gases (F-gases) such as R32 for environmental reasons. Smaller filling quantities are required, can be recycled and reused more easily.
Environmentally friendly
Positive effect is no impact on ozone layer and reduced global warming phenomenon. There will be a transition period for R410A from 2017 - from 2025 import will be banned for equipment with charge <3kg. As a simple refrigerant, not a compound, R32 can be easily recycled and reused. Thus it is environmentally friendly
Advantages over R410A
∼70% less nefarious potential

0% ozone impact

Future-proof
Less impact on global warming
Future vision
Nowadays, protecting the environment is one of the most important challenges of society. Both end users and manufacturers are doing their best to protect the environment as they can. As one of the pioneers of air conditioning manufacturing, HANTECH is committed to R32.
Effort for air conditioning engineers
As R32 is no extra cost and is as easy to install as R410A, there will be no extra costs. On the contrary, R32 is cheaper because less of the medium is needed for the same cooling capacity.
Scope of delivery
Outdoor unit HANTECH 9000 HPRO MODEL
Indoor unit HANTECH 9000 HPRO MODEL
Bracket for outdoor unit
4x vibration dampers / rubber buffers for outdoor unit
Electric connection cable 4m
Remote control
Condensation water hose
2x union nut for 1/4 pipe
2x union nut for 3/8 pipe
Outdoor unit pre-filled for 3m pipe length
| | |
| --- | --- |
| Manufacturer | HANTECH |
| Model | SET Multi HPro 3x09 3m |
| Item ID | 1289 |
| Condition | New |
| Content | 1 piece |
| Weight | 81000 g |
| Net weight | 70000 g |
| Customs tariff number | 84151090 |